Thursday, September 23, 2010
What Kevin Kelly learned about technology when he homeschooled his son
: "My friend
Kevin Kelly
always has interesting observations. Last year he homeschooled his 8th grade son for a year. He wrote about it for the
New York Times Magazine
. Here's a list of the things he learned about technology from the experience:
Technology will change faster than we can teach it. My son studied the popular programming language C++ in his home-school year; that knowledge could be economically useless soon. The accelerating pace of technology means his eventual adult career does not exist yet. Of course it won't be taught in school. But technological smartness can be. Here is the kind of literacy that we tried to impart:



• Every new technology will bite back. The more powerful its gifts, the more powerfully it can be abused. Look for its costs.



• Technologies improve so fast you should postpone getting anything you need until the last second. Get comfortable with the fact that anything you buy is already obsolete.



• Before you can master a device, program or invention, it will be superseded; you will always be a beginner. Get good at it.



• Be suspicious of any technology that requires walls. If you can fix it, modify it or hack it yourself, that is a good sign.



• The proper response to a stupid technology is to make a better one, just as the proper response to a stupid idea is not to outlaw it but to replace it with a better idea.



• Every technology is biased by its embedded defaults: what does it assume?



• Nobody has any idea of what a new invention will really be good for. The crucial question is, what happens when everyone has one?



• The older the technology, the more likely it will continue to be useful.



• Find the minimum amount of technology that will maximize your options.
Achieving Techno-Literacy
Tuesday, September 21, 2010
Free climbing a tower higher than the Empire State Building
: "

This video has been making the rounds, but in case you missed it, it's a real thrill. I watched it in full-screen mode, like my friend Jim Leftwich suggested. My palms got sweaty and the soles of my feet ached, like they do whenever I'm on the edge of a cliff or other high place without a barrier between me and a plunge to death.
Broken crockery couture
: "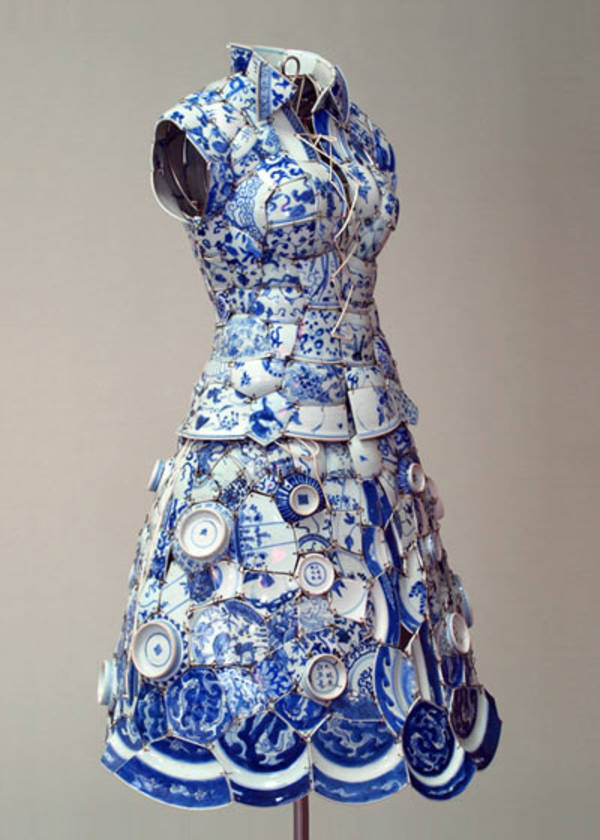 Li Xiaofeng is a Chinese artist who makes sculptural clothing from broken crockery. The results are lovely and apparently wearable. I don't know if they're dry-clean only or dishwasher-safe.

Li Xiaofeng

(via Craft)

Rogue high-speed traderbots chaffing the market with thousands of nonsensical transactions every second
: "Nanex, a data-services firm, has discovered mysterious high-speed trading bots operating on the major stock exchanges, executing thousands of nonsensical transactions per second (for example, they may offer to buy a stock at a price much lower than the current quote, or to sell it at a much higher price). No one knows what these bots are trying to do: is just just a DoS attack on the exchange? Radar-chaff to prevent other bots from detecting another strategy? Bad code? Some call it 'algorithmic terrorism' though Nanex is calling them 'crop circles.' Perhaps they're merely 'quote stuffing' or 'market spoofing' -- the jargon is delicious.





Here we see a 'flag repeater' being executed on the BATS Exchange, the third-largest equity market after the NYSE and NASDAQ. 15,000 quote requests were made in 11 seconds in a repeating pattern. Each iteration upped the quote a penny until $9.36, and then the algorithm went down the same way, a penny at a time.

Market Data Firm Spots the Tracks of Bizarre Robot Traders
(
via O'Reilly Radar
)
World's largest, strongest spider webs
: "
This massive spider web in Madagascar was woven by Darwin's bark spider, a recently-discovered arachnid that uses its incredibly-strong silk, ten times tougter than Kevlar, to make the world's largest webs. These spiders are known to make orb webs in Andasibe-Mantadia National Park up to 2.8 meters square anchored by 25-meter threads. More photos at
National Geographic
, and the scientists' reports in
PLoS ONE
.
How to record the cops
: "Radley Balko says, 'My
Reason.com
column this week looks at the range of cameras, software, and other technology available for citizens interested in recording on-duty police officers.'
Qik and UStream, two services available for both the iPhone and Android phones, allow instant online video streaming and archiving. Once you stop recording, the video is instantly saved online. Both services also allow you to send out a mass email or notice to your Twitter followers when you have posted a new video from your phone. Not only will your video of police misconduct be preserved, but so will the video of the police officer illegally confiscating your phone (assuming you continue recording until that point).


Neither Qik nor UStream market themselves for this purpose, and it probably would not make good business sense for them to do so, given the risk of angering law enforcement agencies and attracting attention from regulators. But it's hard to overstate the power of streaming and off-site archiving. Prior to this technology, prosecutors and the courts nearly always deferred to the police narrative; now that narrative has to be consistent with independently recorded evidence. And as examples of police reports contradicted by video become increasingly common, a couple of things are likely to happen: Prosecutors and courts will be less inclined to uncritically accept police testimony, even in cases where there is no video, and bad cops will be deterred by the knowledge that their misconduct is apt to be recorded.

How to Record the Cops: A guide to the technology for keeping government accountable
A Grand Taxonomy of Rap Names
: "
Pop Chart Lab
has produced a visually graceful and historically authoritative
Grand Taxonomy of Rap Names
poster, available for $20. You can
view it large here
. '266 sobriquets from the world of rap music, arranged according to semantics.'
(thanks, JG)
"